Top 10 Best BBW Dating Sites for Big Beautiful Women in 2021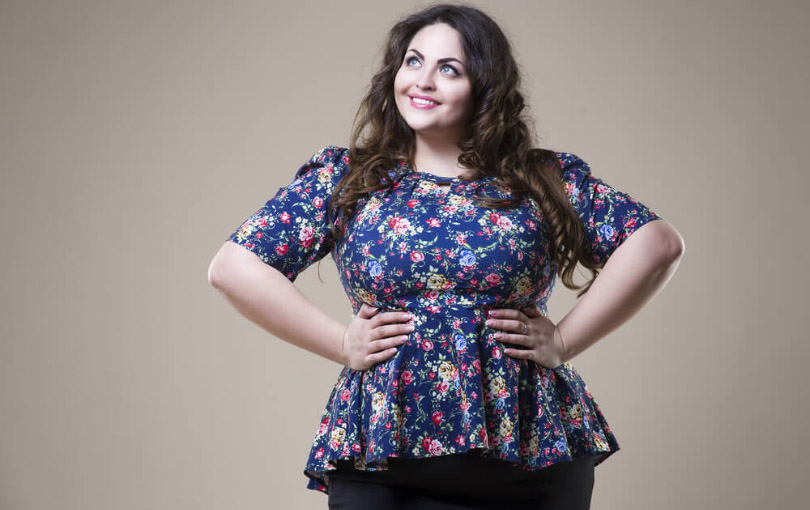 Big beautiful women. What's not to love? A lot of people love to see some meat on the bone, and if you do, boy you're in for a treat! There is an application or website for everything these days, so why should BBW be any different?
With these websites, you're guaranteed satisfaction as both a BBW and a person seeking a different kind of beauty that you don't often see on magazine covers. Internet dating culture has changed the dating game forever, and there is no going back – it offers you innumerable benefits to plain old boring dating.
Things are much faster and much more dynamic than in the olden days. So what are you waiting for? Let's get into the top 10 dating websites centered on your favorite type of woman, Big and Beautiful!
1. BBWCupid
BBWCupid is one of the oldest catered websites around. It's very versatile and offers everyone a chance to contact a person of their preferred body type. It's one of the best websites by pricing, as most of its functions are completely free of charge. It's a part of the Cupid network, which owns a lot of dating websites, so its mainframe and design are slick and top-notch.
It has a big community of over 100,000 unique members, with an overwhelmingly female population at over 65%! The registration process is very simple, and it requires you to fill out a casual sheet of personal information. You might not want to give out all your information at once, but you can add or subtract things in the profile editor later on.
You can edit your profile in any way shape or form you might like. It is very advanced, and in turn, the website has a well-defined filtering and search feature, which is also free of charge to use. BBW cupid also offers an application for Android and IOS, so you can take all your dating needs on the go without having to be confined to a desk and a monitor!
One of the biggest pluses of this website is its discrimination-free policy. If you see any kind of abuse, or God forbid experience it yourself, reporting someone is only a click away. The security team and the moderators are very active and will be sure to solve any problems you might have.
If you opt for it, you can pay for a gold and platinum membership and get even more perks out of this amazing website. The rates apply to everyone, and start at only 8$ a month! What an absolute steal!
2. BBPeopleMeet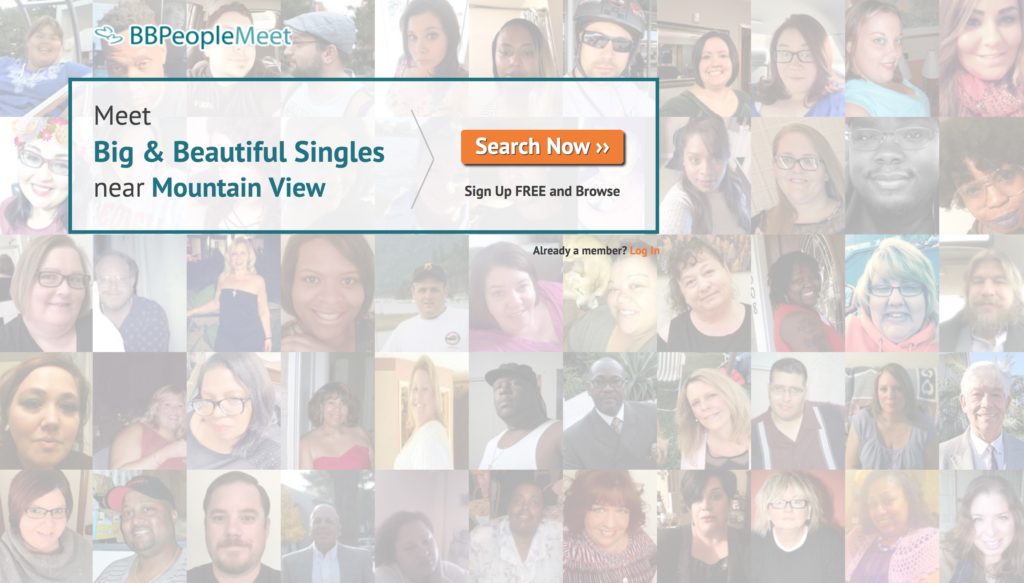 BBPeopleMeet is a private and discreet online matchmaking service. It has a big population of over 400,000 members. It accepts all types of people, and you don't have to be a BBW to join.
It is discrimination-free and is sure to offer you a pleasant experience in browsing and viewing gorgeous women from all around the globe! The website is owned by match.com, so it is a very safe environment and is filled with quality members.
This is not a hookup website, and it is catered to making long-lasting and love-filled relationships between two people who share a common interest in the same body type as you! After all, this website is all about body positivity. Your profile is only visible to the people you chose to, and vetting is of the utmost importance on this website.
Signing up is simple, and so is using the website. You have to be confirmed by the staff before you join the website. This greatly decreases the number of scammers and fraudsters that can be plentiful in websites that cater to a niche audience.
The registration itself is free, but you will need to prepare some money if you want to enjoy the website to its fullest potential. The starting fee is about 6$ a month.
3. LargeFriends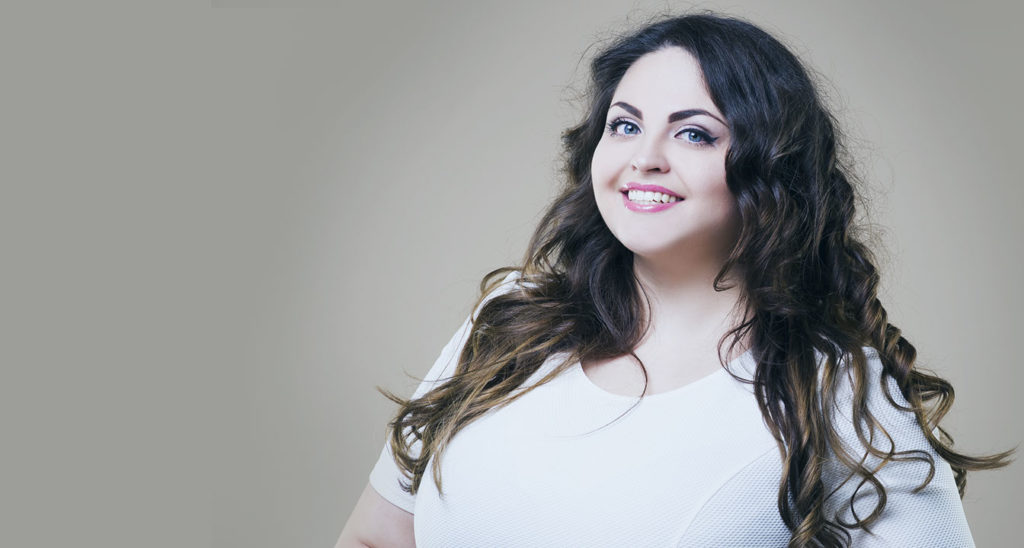 LargeFriends is an online dating platform that is one of the biggest in the business, with over 1,000,000 unique users. It caters to building relationships other than hookups and is a very solid choice when it comes to BBW dating. It has a very active vetting system, removing fake profiles, and low-effort profiles manually on the daily.
It is primarily based in the US, but also has some British and Canadian users. It has a very detailed feel to it, as you can control most aspects of both the website and your profile to the smallest nook and cranny if you're a paying member.
It is simple to use and simple to get into. The signup process is easy – it requires you to fill out a simple sheet about yourself, ending in your preferred picture or pictures. After joining the website, you're offered to pay a membership to get additional perks. We advise this, as some crucial features such as email communication or chatting are pay-to-use.
The profile editing tool is where this website shines, asking you a lot of questions which you can fill up to get the most information out there. Remember, well-made profiles bring a lot more people to them than shoddy ones, so put some effort into it!
The rates for the membership are decent, starting from 16$ a month.
4. WooPlus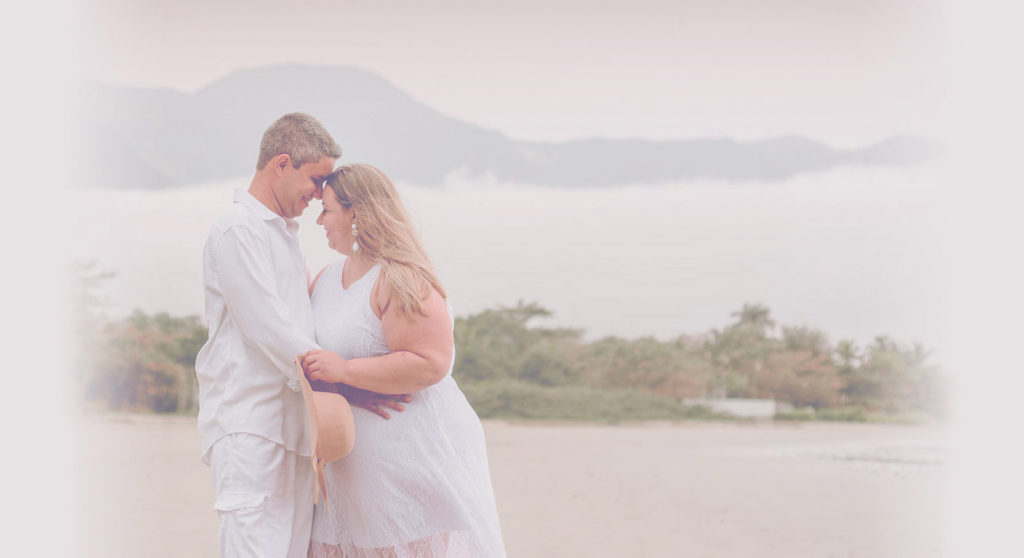 WooPlus is a plus-sized dating website/app that was made just for you! It offers a neat way to view dating, turning it into a sort of card game. It's also completely free of charge to use, and not paying for a premium membership doesn't ruin the whole experience for you.
It has over 1,500,000 members and is based in the USA. It boasts an extremely active community for such a large website, owing to its active moderator team actively removing dead and fake profiles every day. It also has a fair gender ratio, with males outnumbering females two to one.
It is more of a plus-sized social media network than anything, offering you something akin to your own personal blog-driven profile. When you've made an account on this app, you will be thrown into the fun and interesting world of your personal profile customization, and this is where the fun begins!
The customization tool is vast and powerful, so remember to use it with caution! It's easy to get carried away with such a fun tool.
If you decide to pay for a subscription to this website (which you totally don't need to) the rates start at a hilarious 5$ a month. What a steal!
5. BBWRomance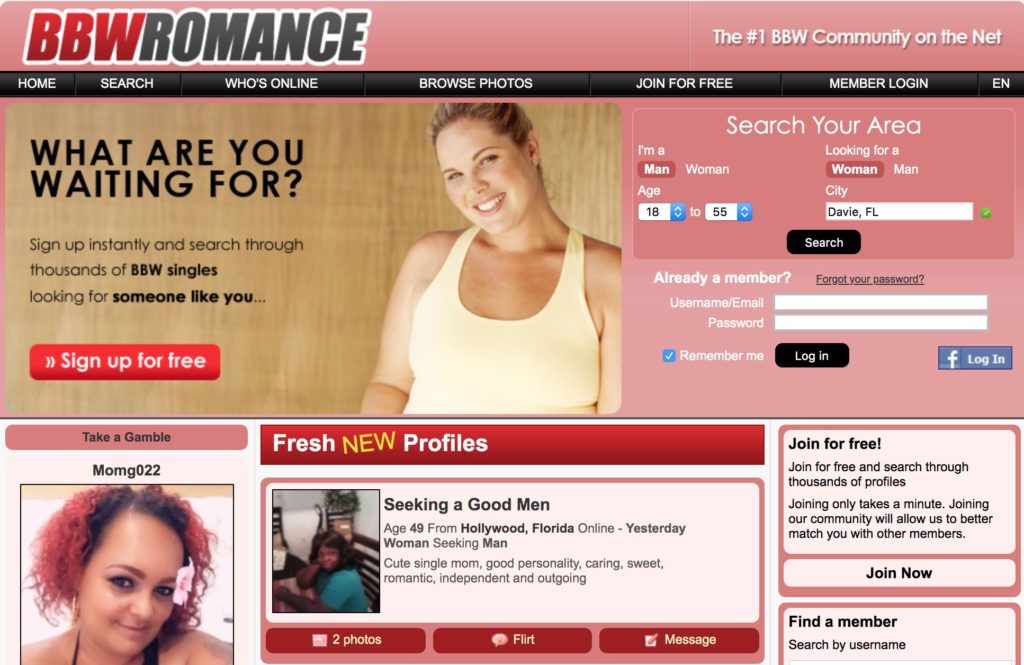 BBWRomance is a dating website that is made for big guys and girls to find each other for the purpose of becoming friends or even lovers.
It's a relationship orientated website that has over 23,000 users. With such a small user-base centered in the US, it boasts an insanely tight knit and active community. As it advertises itself – it's a small club for big people!
Signing up to this service is pretty easy and won't take too much of your time, and it offers you a casual and simple way to date. It's very informal and goes by the quality over quantity philosophy.
It has some interesting features, like its black book where you get to keep all the people you like, or at least their profiles. It's up to you to keep them talking!
Its filter system is also quite advanced, and it lets you narrow your search down to the smallest detail, ensuring you're finding your perfect match within just a few simple clicks.
6. BBWAdmire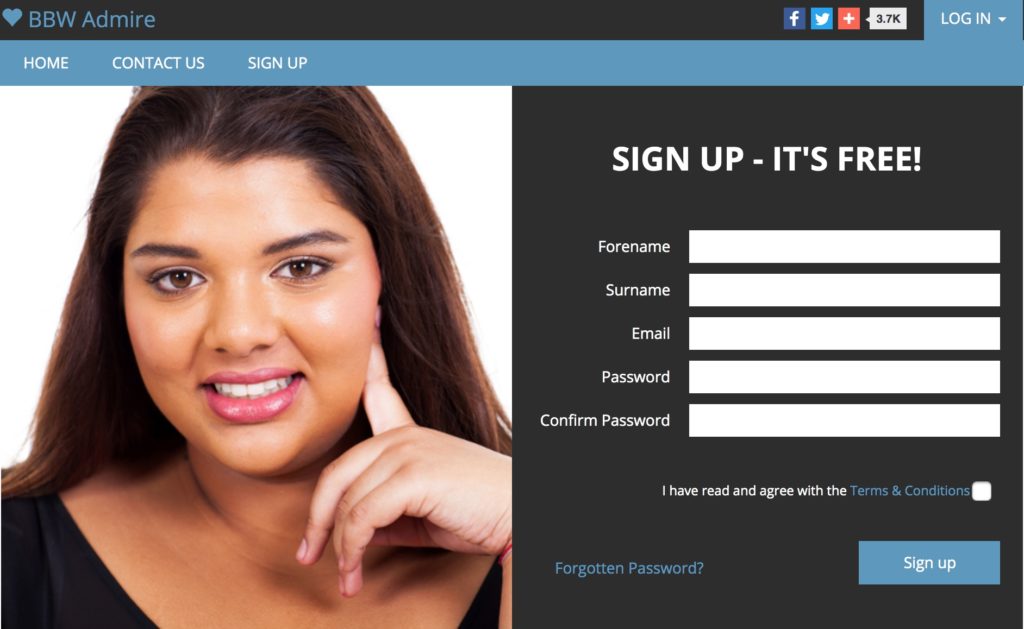 BBWadmire is a newer addition to the online dating game, and as such brings new fun features to the table! It's completely free of charge to use, and it's still usable even if you decide not to upgrade to a premium membership, as all the important features such as live chatting are completely free!
It offers you a quick and easy signup method, only asking you for the most basic information you would want to offer, giving you the chance to add more along the way. Its profiles are pretty basic and plain, but can be edited to a fine degree by adding a personal bio, numerous pictures, and different question-based information.
The search option on this website is excellent, as its advanced algorithm is there to make sure you're getting exactly what you want. It also offers you the chance to visit its own forums and chat rooms, which makes mingling with your potential future mate much more simple and casual than it usually is. Breaking the ice has never been easier!
7. BBWLocalHookup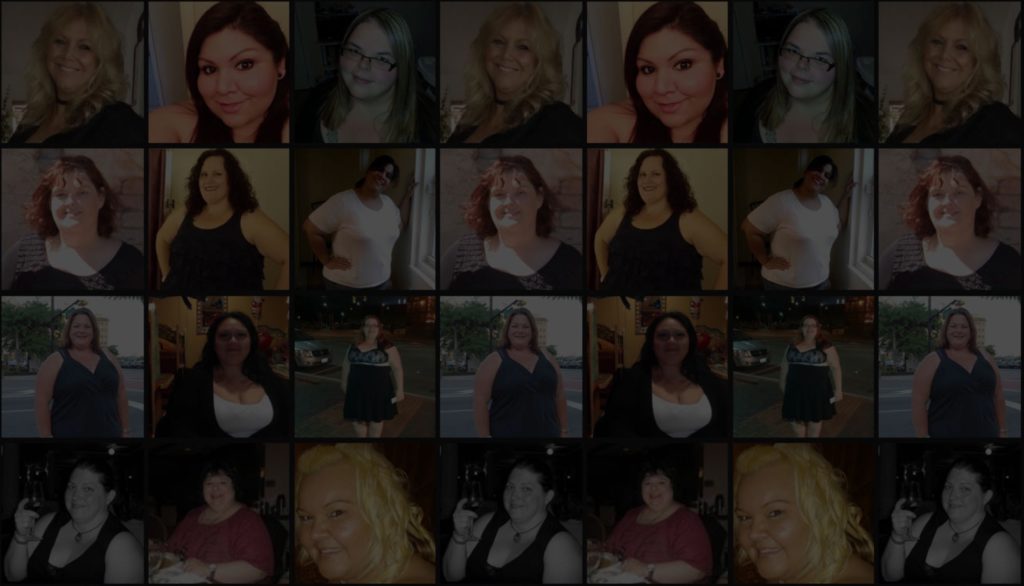 BBWLocalHookup is not a dating or matchmaking service. It's very straightforward and offers you a quick and easy way to hook up with the women that you simply can't get enough of, Big Beautiful Women.
It aims to get you laid as soon as possible, and it is very good at doing so. It has a big member base of over 600,000 different users, mostly from the US. It is also BBM friendly, so there is another big membership perk. It's sometimes better to be the chaser than the chased, so you're in luck, men!
It's a great option if you're looking for a hookup, but it does suffer from a few dead profiles, so be wary. Other than that small issue, BBWLocalHookup offers a top-notch service for you to find your next potential partner.
Even if it's catered to hookups, hookups sometimes tend to bloom into beautiful relationships. So don't knock it until you've tried it!
8. BBWFriendsDate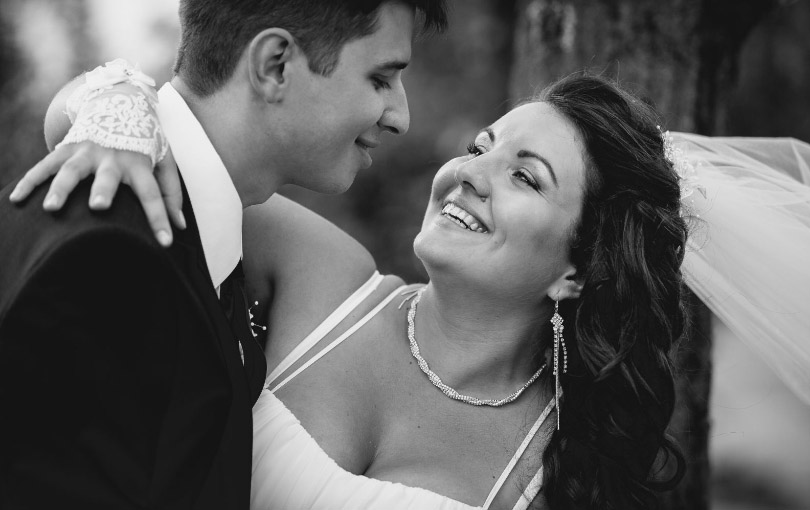 If you're looking for some of the best websites in the all-around dating game, BBWFriendsdate is the website for you! It's not only one of the best, but it's also one of the biggest, boasting a population of over 1,000,000 big and beautiful users. It's a great option for singles who are looking for voluptuous partners with beautiful curves in all the right places.
It is free to use and is very easy to register. The whole process from joining to mingling won't take more than just a couple of minutes of your day. It has an Android and IOS application, so you can take all your dating needs on the go.
It follows the social media dating platform arrangement, as you have both personal profiles which you can view, blog-like options where you can post your thoughts and anything you might want (yes, it also supports video), and a live chat function. It also has a groups tab, which is akin to a chatroom, so breaking the ice has never been such a breeze.
9. OneBBW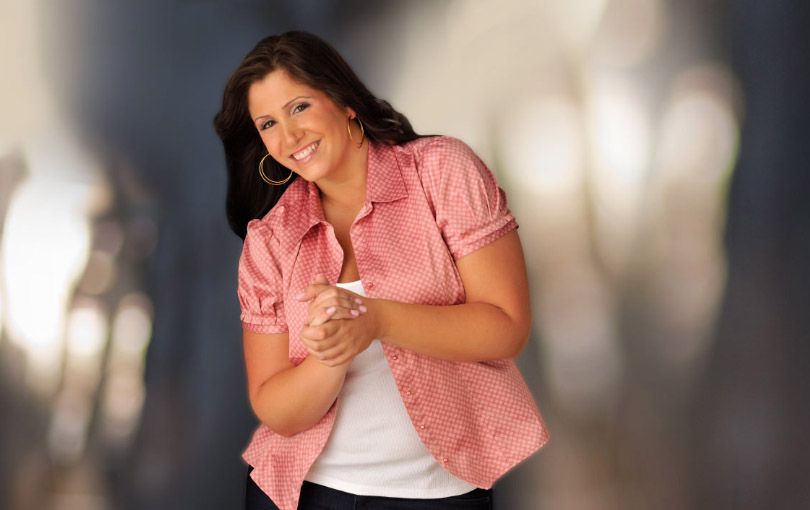 OneBBW is a website that brings people together. It's a great tool that can be used for both dating and hookups and is generally well-known for being a solid and impressive option for big guys and gals. It's very honest and doesn't try to play down its theme.
OneBBW appreciates BBW and embraces them to their fullest! It's safe to say all and any body-shaming will result in an immediate ban, so it's a safe haven from all the filth that mucks around on most dating services.
The website in itself is free to use, and the profile design tool is basic but fair. Picking preferences has never been easier than with OneBBW, as the most detailed aspect of the website is focused on finding you a perfect match.
You can add friends (called Admirers on the website) through their powerful matchmaking tool and start chatting a few moments after finishing your profile.
10. BBWDateFinder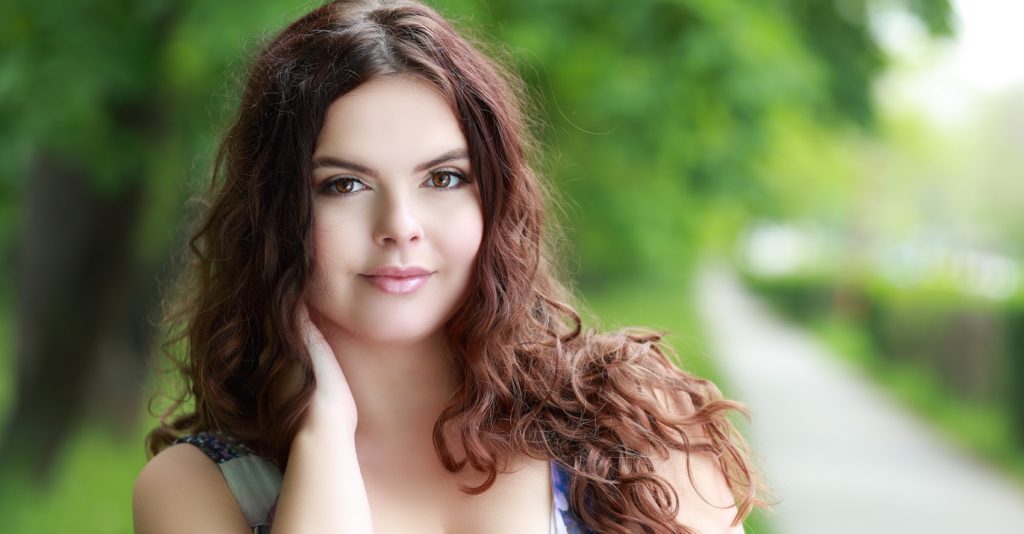 BBWDateFinder is a popular option for all curvy individuals looking for a little gravy in their mash. It's a website that is mostly used for hookups, but dating is not out of the question. It follows a simple standard of registration, featuring a few simple questions to get you started and on your way to finding your perfect plus-sized princess.
It operates internationally and has members from all around the globe, totaling up to over half a million unique users! It's very user-friendly, and it's easy to find your next perfect match on here through their advanced suggestion and matchmaking feature. It's a well-designed and modern site that encourages all sorts of relationships between two larger individuals.
It's recommended that you pay for a subscription, as some crucial aspects, such as messaging, aren't possible on a free membership. But don't worry – BBWDateFinder will keep your wallet happy with its rates that start at only $16.99 a month if you opt for a six-month-long subscription.
These have been just the crème of the crop websites for you to find your next partner on. Always remember to be respectful online and treat people how you would like to be treated. If you want some more dating websites or dating advice, be sure to check out our other articles.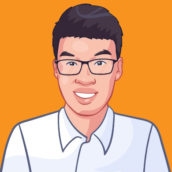 TDC
TheDatingcatalog is all about helping people who want to find a date, love, a relationship, or just a simple hook up, by pointing them in the right direction. With so many sites and apps at your disposal, meeting the right people for your exact needs will be a walk in the park. It will give you the best and most trustworthy recommendations available when it comes to dating sites and apps that might just be right up your ally.