Top 10 Best Gay Dating Apps for Men Seeking Men In 2021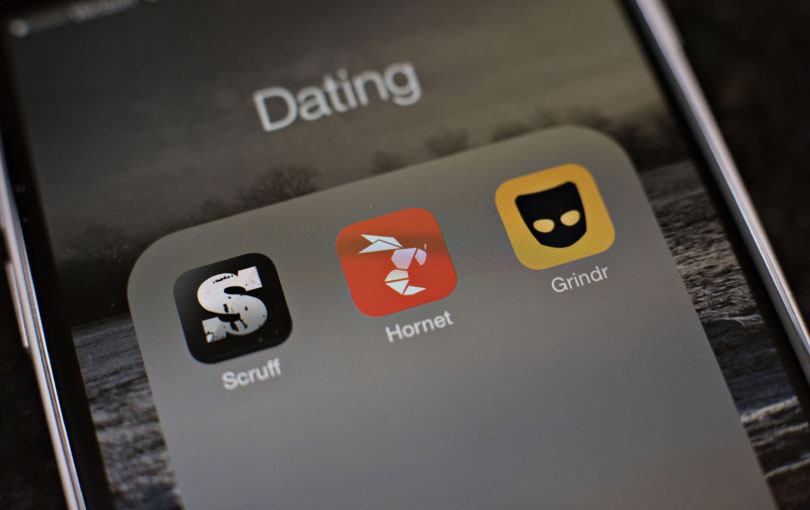 The online dating culture has been skyrocketing in the past decade. With the evolution of how we love, date, and communicate, we are seeing perhaps the greatest thing since sliced bread. Dating apps! Dating apps are an extremely simple, portable and fun way to spice up your love life.
Apps are a great way to achieve all of your dating goals. You're always connected if you have an internet connection and you can take care of your dating life on the go. You can browse through potential matches anywhere and anytime, which is a huge step up from looking at a big screen and chatting up. Some even offer you a chance to find singles in your current location, so you can mingle with people at the next social event you're going to, digitally!
Now, the LGBTQ community has always been frowned upon, but not anymore! It's 2019 people, and gay dating is a wonderful and boastful way to find yourself that special someone through the magic of the internet. Here are the handpicked top 10 gay dating apps that are designed to fulfill that purpose!
1. Grindr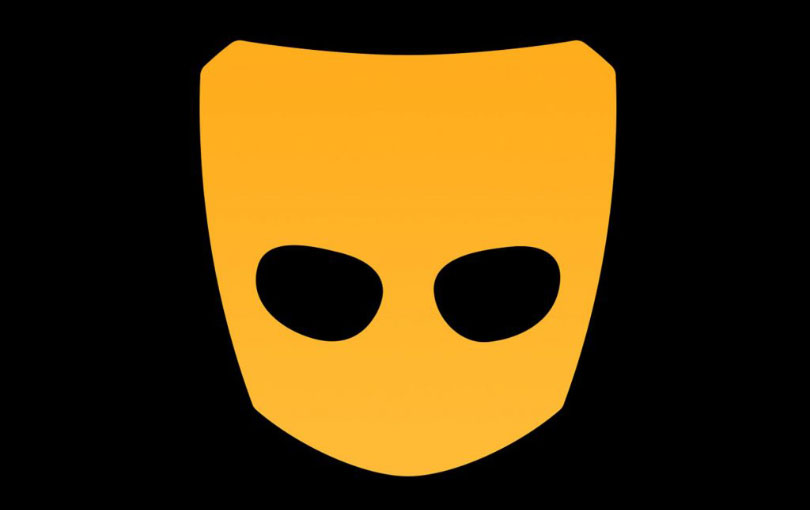 Grindr is the alpha and omega of all gay dating apps. It's the first, the biggest and the best there is! It has a huge user base in over 200 countries and more than 2 million active users. It's exclusively made by men for other men. It's the absolute gold standard in dating apps. It offers geotagging and innumerable other features to its users, and also comes with a desktop version.
The sign-up process is simple as pie, and the interface is extremely easy to navigate. It offers a completely free service and a good one at that. Once you've signed up, you're taken to a social media-like page where you can mingle. It offers an unmatched variety of filters to find exactly what you're looking for.
It's originally designed as a hookup app for gay men but is also used to find long lasting friendships and join social clubs. You can also pay for a premium membership called Grindr Xtra, that offers you a lot of add-ons and exclusive perks for the cheap price of only 5$ a month. What a steal!
2. Yumi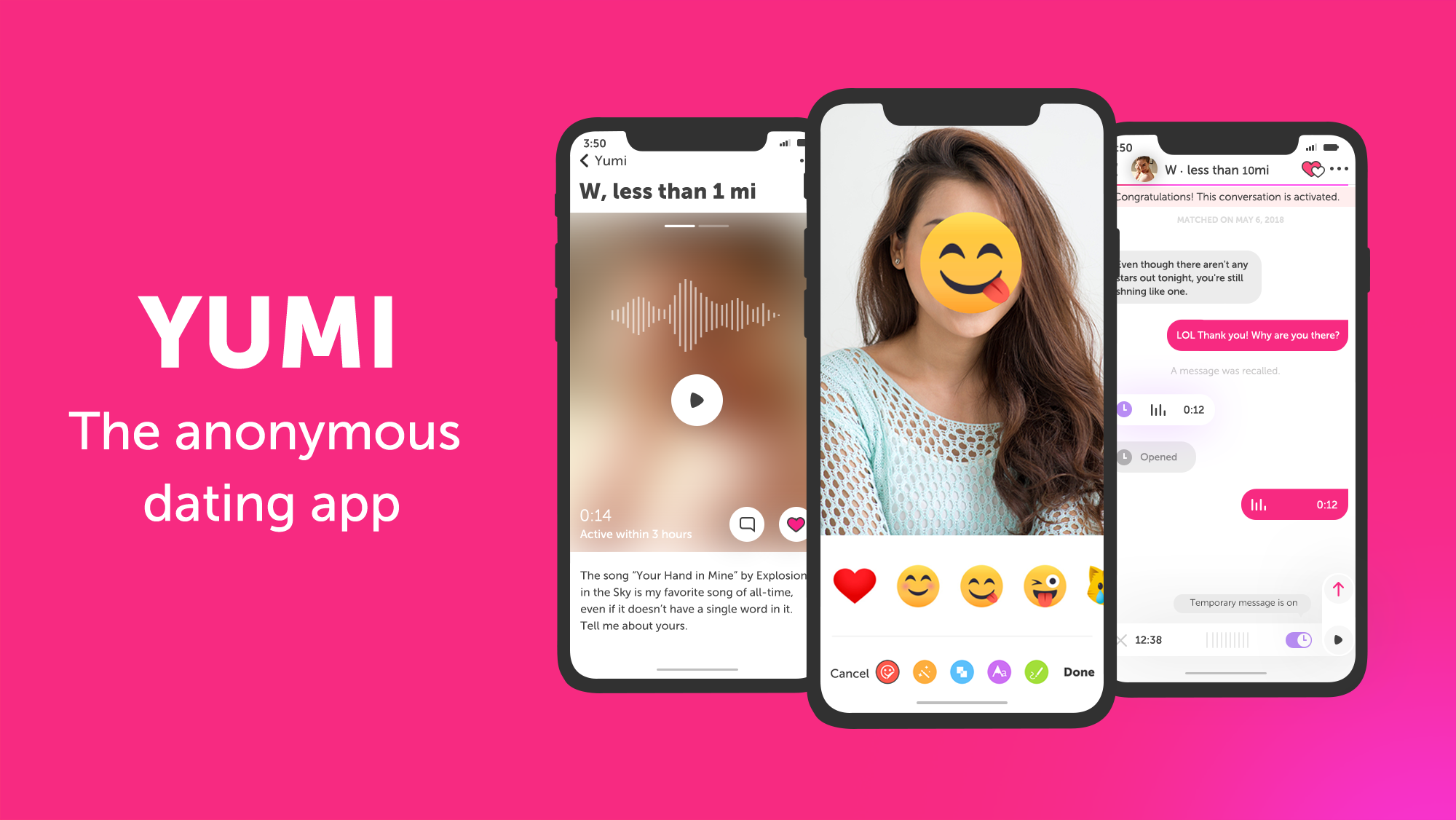 Yumi is an online dating application that offers something unique and interesting to the table. It's completely anonymous. You don't even have to upload your profile picture! It is a unique and great twist on the online dating trend and takes your privacy as seriously as you do!
If you decide to upload your photo on the Yumi application, you can always edit out your face. Once you've signed up and made your account filling it with all the information you yourself choose to give out, you can participate in the app's unique card feature. You get four cards and get to turn over one. If the person you've turned over, well, turns you over, you're on your way to getting a new date tonight!
The application also offers you a chance to make a voice profile instead of uploading a profile picture, which provides an interesting twist on the standard picture/bio format. Other apps should take notes!
Yumi is also completely free to use. It is catered for casual hookups and long-lasting relationships, so anything you're looking for you're likely to find here. If you're looking for your next date while wanting to remain as anonymous as possible, you're in the right place!
3. Scruff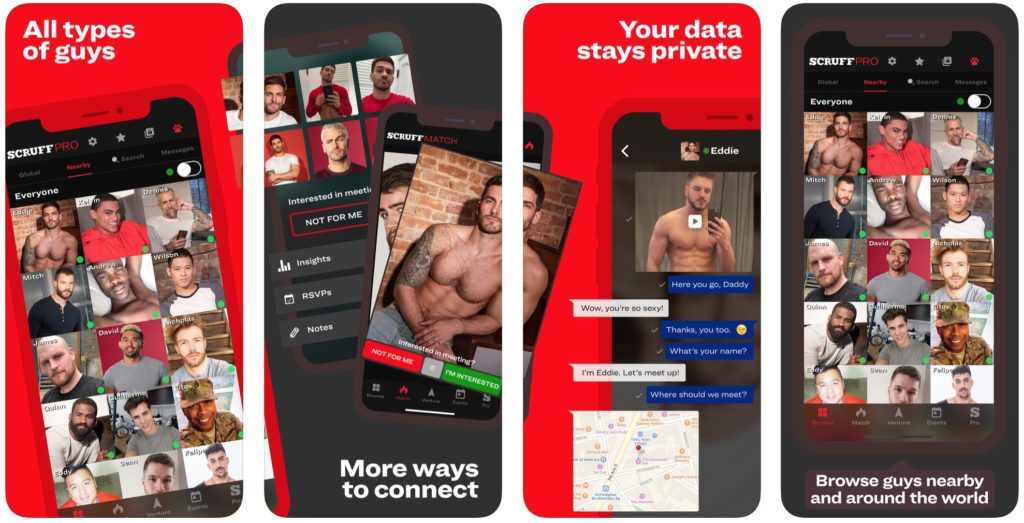 Scruff is a dating app for men exclusively and offers a huge user base of over 17 million different users. Most of them are based in the USA, so if you're from there, you're in for a real treat. It offers its services exclusively for men seeking men, which includes not only gay people but Trans, bi, queer and CD individuals too!
The app offers a chill and laid back atmosphere where you're sure to find what you're looking for. It's catered to all equally, and its filter option gives you the chance to exact your search for your perfect partner. Signing up is easy. The design of the app is modern and slick. You have to give your basic information and location to the app, confirm an email address and you're well on your way!
You can set your filters to anything you like. It has a great security system and interaction with the users of the app, removing most scammers and ghosts through their authentication system. It's friendly to 18+ content only in the private photo section of your account, which you can get by paying for the premium features of this app.
Now, unlike most dating apps, especially the ones that cater to a tight community, Scruff is very cheap with rates starting as low as 10USD a month.
4. Surge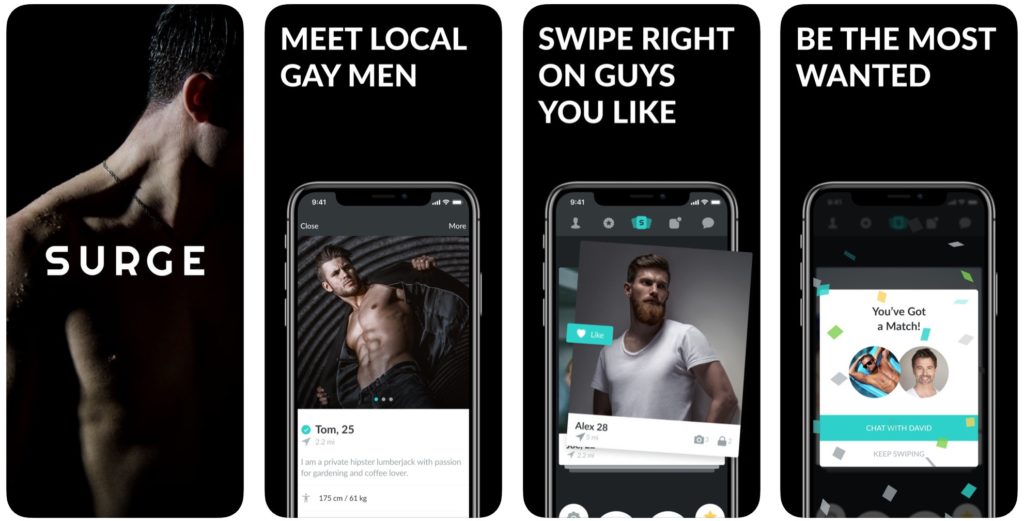 Even if online dating is widely accepted and the gay moment has done wonders for the acceptance of gay people in the world, there still are places where it's ostracized. Luckily, applications like surge are here to save the day. The dating app under the radar offers a safe space for all gay men looking to mingle. It has a large user base and is available in most countries. It's primarily based in Europe but does boast a fair amount of members from the USA and other big countries.
It's available for both IOS and Android and offers a trendy and modern design to it. It works on the standard dating app concept with swiping left or right if you like or dislike someone. Its profile creation is surprisingly well detailed, and you are free to fill it up with as much content as you like. It's become a popular alternative to Grindr and has a strong community in its own right.
It also offers you a power-like option, which is like Tinder's super like in its design and purpose. One of the best features of Surge is its un-match feature, so if the flames die down, Surge is full of understanding. It erases all of your contacts and chatting history with your previous SO, and lets you go on your way to getting back in the dating scene.
5. Adam4Adam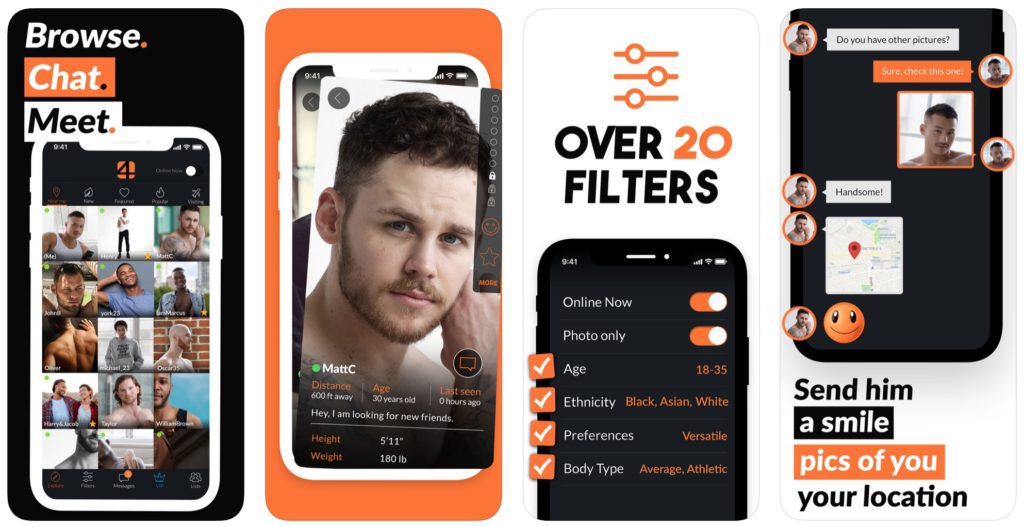 Adam4Adam is a great hookup themed dating website exclusive to gay men. It is also a great supporter of adult entertainers in the gay community by offering them a great platform to earn a following and some money on the side.
It offers a great interface and a stupidly simple signup process. It's one of the oldest hookup websites around, and it was the first of its kind catering exclusively to gay men. Your page needs to be confirmed by Adam4Adam's customer support theme, therefore reducing the threat of scammers and ghosts considerably.
You're able to do anything with this website. From getting a quick down and dirty hookup to buying sex toys, there is nothing Adam4Adam does not do for you. You can also search for local gay escorts and support your local gay community through the app. 

It's won the best dating app of the year award numerous time, and for good reason too! If you're into internet dating, you should not miss out on this titan of the industry.
6. Daddyhunt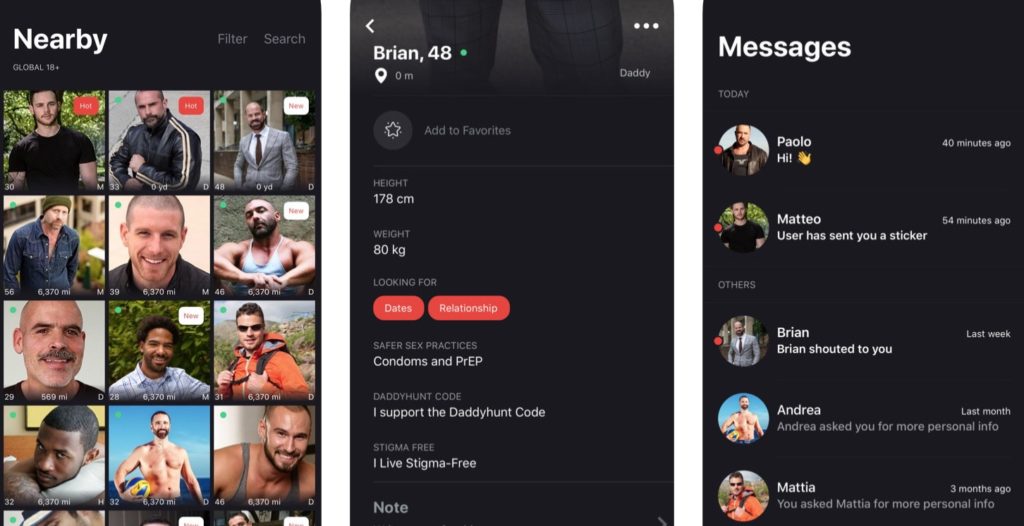 Daddyhunt is a website that provides a service to an often overlooked demographic. Men over 40! It has a big user base and offers a place for younger men to mingle with older men. It's catered to older men mostly and offers anything you could think about. From causal hookups to chatting and even romance, Daddyhunt is the place you should not miss out on if you're looking for someone older.
It offers its service in numerous countries from all around the world and is a popular staple of the community. Daddyhunt is free to use. It offers a premium membership for added benefits.
The free membership covers most of the website functions. You can send unlimited messages and make your profile visible and usable, but paying for features like age, race and choice filtering makes your time far more enjoyable than using the free version.
7. Hornet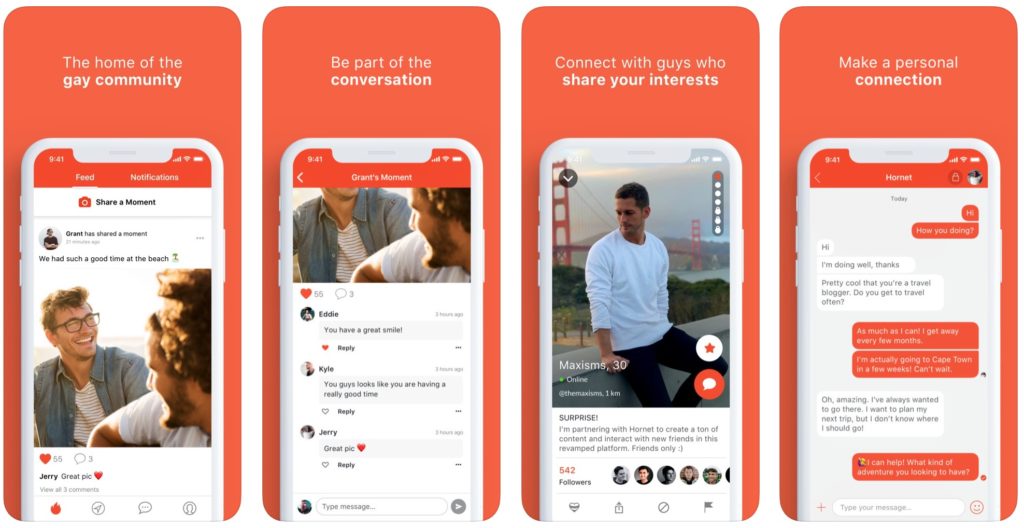 Hornet is not just a dating app, it's much more than that. It's a great application that lets you know about all sorts of interesting things about your local gay community. Primarily, it's a dating app, of course. It caters to all sorts of people, all sorts of age groups, and all sorts of relationships. Quick hookups? relationships? Hornet has you covered!
It's a social network as well as a dating app and offers different features exclusive to Hornet. It offers original city guides for gay guys as well as numerous articles concerning the gay culture written and edited by hornet's own editorial team. It's mostly used in Europe but has a community in the USA as well.
It is available on iOS, Android, and PC, so you can browse anywhere you like. It's also 18+ exclusive, offering its users something akin to Facebooks events, but for gay guys only!
8. Taimi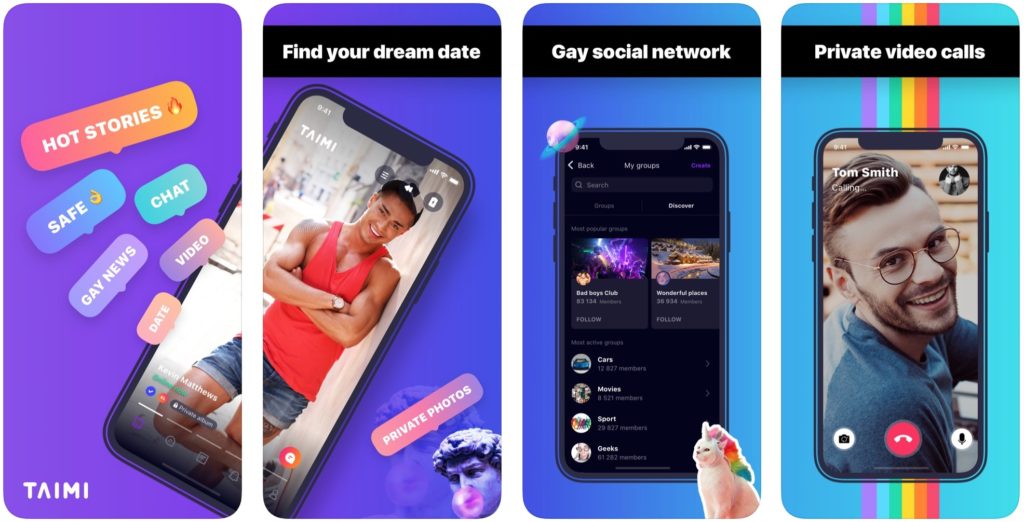 Taimi is a dating platform catered to young men. It offers everything a dating website should offer and much more! Its sign up process is insanely simple. It will set you on your way to finding a potential partner. Its user base is vast and its geotagging feature is known for being one of the better ones in the dating app world.
It's free and boasts a big success rate for its users. Its profile designer feature is also very simple to use and is sure to be a pleasure! Taimi is primarily focused on finding romantic relationships, with most of the users reporting that their romantic interest is what they're looking for. It prides itself on creating "meaningful dates" for singles that are looking for a bit more than just to mingle.
Taimi also gives advice on dating and dealing with homosexuality. It can sometimes be tough to be accepted in your local community and family, and can lead to some personal disasters! With their advice, you'll be sure to handle any situation with ease, both romantically and personally.
9. Grizzly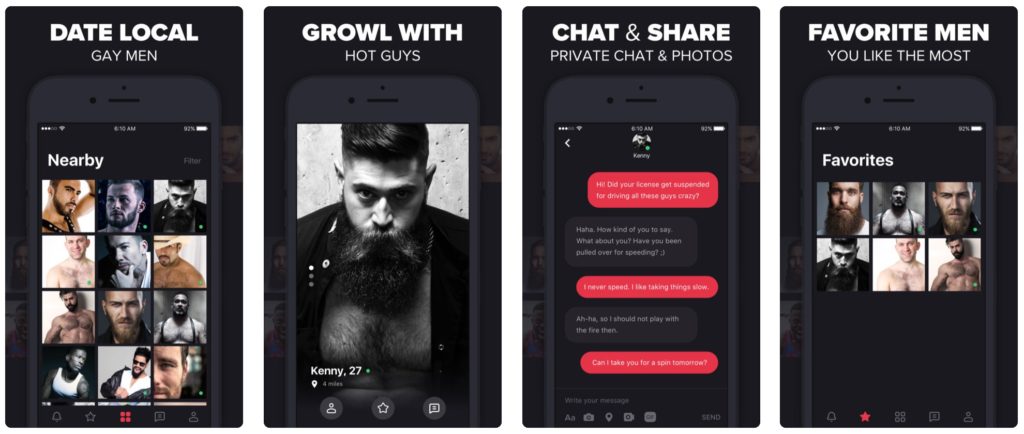 Grizzly is a gay dating app catered to the bear subculture of the gay community. If you're a bear or a guy looking for your bear, this is the place for you. You can sign up with your email address through a quick and simple process, or link your Facebook account and sign up through it. Sadly Grizzly is USA-based but has a wide user base. It is the most popular dating app in the gay bear community.
It is strictly 18+ and is friendly. While we advise posting something other than a nude as your profile picture, on grizzly, anything goes! So if you're looking for a quick hookup, this might just become your favorite new app. Its profile design feature is vast and it's very simple to navigate. After all, Grizzly prides itself upon its user-friendly interface and caring support staff.
10. Jack'd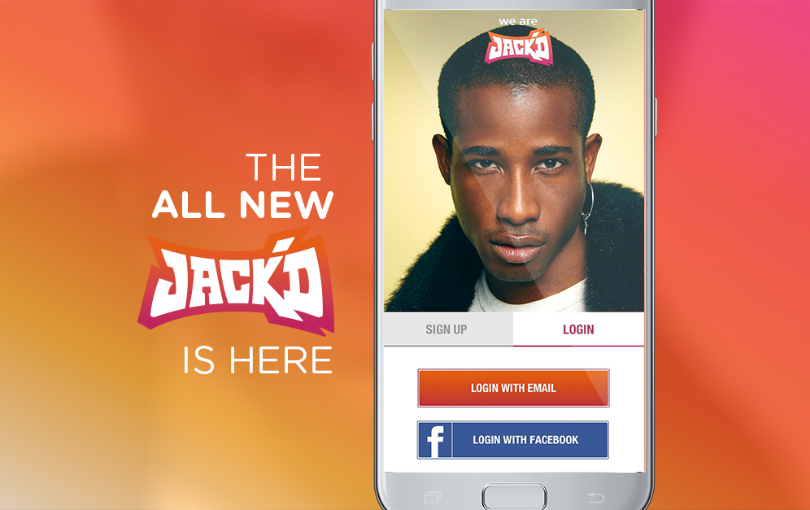 Jack'd is one of the most popular dating apps around and the main man in the gay dating game. It's most likely crossed your path numerous times before you've decided to try it out, and once you do, you see what you've been missing out on. A huge community awaits you over a few simple clicks and ticks.
Jack'd is a free website. It gives you the option to pay for certain features. It offers singles in your local area and far away, chats, sexts, and whatever your mind might desire. The app also prides itself on its security, as it's one of the most advanced in the dating scene. No one can get any information that you don't want to disclose, and that's final!
Its user base is hot and vast; it offers you a very easy to use chatting function. It also offers video chatting, which is an exotic feature in the gay dating scene! It's very modern in its design and versatility, and other websites should definitely learn a thing or two from it!

These were just some of the dating apps in the gay world you should definitely check out. But don't forget to be respectful of your potential matches. They're people too and should not be treated like anything less!
If you're not sure how to start up a successful conversation and perform a masterful ice-breaker, be sure to check out some of gay dating websites since most of them offer tips and tricks to get out of a tight situation.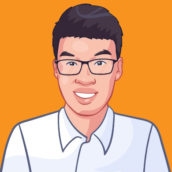 TDC
TheDatingcatalog is all about helping people who want to find a date, love, a relationship, or just a simple hook up, by pointing them in the right direction. With so many sites and apps at your disposal, meeting the right people for your exact needs will be a walk in the park. It will give you the best and most trustworthy recommendations available when it comes to dating sites and apps that might just be right up your ally.